After charting all of their offensive snaps throughout the 2018 season, I isolated the seven passing concepts that make up the bulk of the Dallas Cowboys' aerial attack. These seven plays constituted almost two-thirds of the team's passing yards and over half of their attempts. They accounted for 10 of Dak Prescott's 22 touchdowns through the air.
Since Dallas finished 22nd overall in passing touchdowns and 23rd overall in passing yards (3,538), it's natural to ask questions such as, "Were the team's most used pass plays their best ones? If so, why weren't they more successful? Should Scott Linehan have included more plays in his repertoire? Was this a failing on his part or was he limited by Prescott's current state of development as a passer? Was it a combination of the two or something else entirely?"
Charting Context
Please note that the following numbers are not absolute and require some flexibility in interpretation. Teams can run multiple concepts at the same time or vary them with numerous tweaks. Quarterbacks make checks and change routes in ways that aren't always seen on film, etc. This can muddy one's analysis of the data. However, these figures still provide enough context to gain a clear picture of Dallas's passing game.
Each mention of a passing concept refers to when it was the main — or one of the main — components on a particular play. But this does NOT mean the receivers executing the specified route combination were the ones targeted by the quarterback. For example, the offense ran a form of the smash concept on 59 snaps throughout the season. But some of those passes were to an outlet receiver.
As a whole, these numbers show how productive the team was overall while running a specific concept on the field.
Total Drop Backs
Excluding passes negated by a penalty and when the quarterback scrambled, Dallas called 647 designed dropbacks during the 2018 season. That was a rate of 35.9 times per game.
Although some of these concepts overlap and the numbers aren't a perfect comparison, when adding them together as individual plays, they make up 18.7 snaps per game. That's 52.1 percent of the average number of dropbacks per week in 2018.
Below are the Cowboys' seven most frequently used passing concepts:
1) Screen Passes
Whether it was a quick throw outside or a play-action pass to Ezekiel Elliott or a tight end, Dallas ran a total of 69 screen passes over 18 games. Including plays negated by a penalty; that came out to 3.8 attempts per week.
Here's an example of a play-action tight end screen in the season opener at Carolina.
Despite opponents catching on to the Cowboys' tendency to call screens on long distances (30 of 69 on 10 yards-to-go, 56 of 69 on ten yards or more), Prescott still threw for two touchdowns and five explosive plays on them. And due to the short distance of the throws, he attained a completion percentage of 90.3.
2) Smash Concept
This is a high-low route combination on the outside that traditionally involves a hitch by the outermost receiver and a corner from the slot.
The Flat-7 variation was this team's most frequently called smash route in 2018. Prescott's overall completion percentage when they ran this concept was 57.1. He managed to make two explosive passes, one to Amari Cooper against the Eagles in Week 14.
The Cowboys' receivers ran some form of smash at least 3.3 times per game, as it was their second-most used passing concept.
3) Verticals
Linehan dialed up some form of vertical concept that sent two, three, or four receivers downfield 48 times this year, almost three times per game. Here's a 3-Verticals example with a stutter-go from Dallas's domination over Jacksonville in Week 9.
The intent isn't always to take deep shots against opponents. Sometimes the routes create space underneath for Elliott to exploit, etc.
When running these vertical concepts, Prescott had a 50 percent completion rate, his lowest of the seven plays. But don't be misled by that number. Compared to the rest of the league, his passer rating on deep throws was at least on par, and in some cases, better.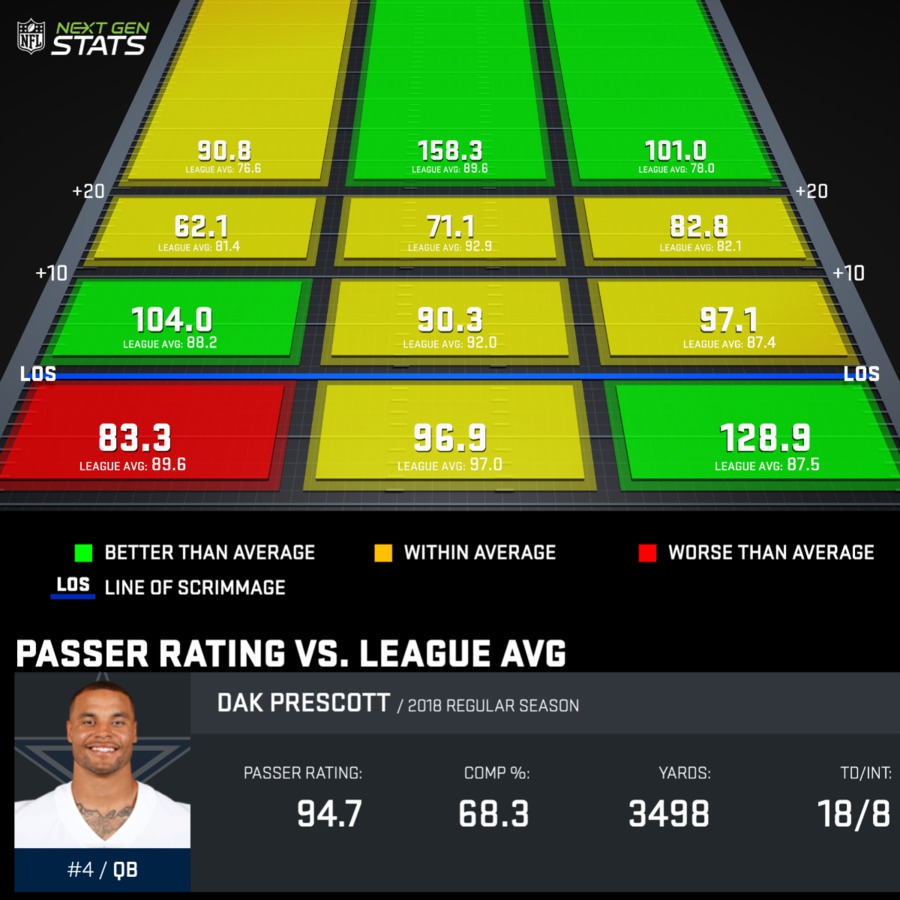 And despite completing only half of his throws when the team ran these vertical concepts, the former Mississippi State Bulldog threw five touchdowns. He only threw for one touchdown on each of the bottom three pass plays. So, while his accuracy was at its "worst" on 2-, 3- or 4-Vertical designs, his hits were big.
4 & 5) Curl-Flat, Slant-Flat
The curl-flat and slant-flat are quick pass concepts common throughout the NFL. Teams frequently dial up the curl-flat on early downs to gain easy yards versus zone coverage. The slant-flat is typically a man-beater, as the two routes tend to rub defenders.
Aside from screen passes, Prescott was his most accurate on these plays, completing 69.6 percent of his throws when the team ran a curl-flat. He hit on 72.3 percent of passes when they ran the slant-flat.
Both concepts are often combined with other route combinations. In the example below, the Cowboys run the slant-flat to their left and the curl-flat to their right.
6) Bootleg
The bootleg is a play-action rollout pass. Its inclusion on this list should come as no surprise to anyone who watches the games.
Dallas runs some form of this play 2.5 times per game. Unfortunately, Prescott hits on only 56.8 percent of these designed rollouts.
7) Clearout
The last concept the team often employs is what I refer to as a clearout combination. The outside receiver runs vertical as the slot executes an out or flat route. Here's a play from Week 6 where the team runs a mirrored clearout concept.
Prescott's accuracy is about the same on this play (56.1 percent) as it is on the bootleg or rollout. The frequency with which Linehan uses the clearout is nearly the same, as well (2.4 times per game).
Comparing Concepts
Here's how each passing concept stacks up to the others:
Prescott has a below 60 percent completion rate on four of the seven pass plays. But as noted earlier, his accuracy when running the verticals concept shouldn't necessarily count against him. And his five touchdowns from those plays make up for his 50-50 hit rate.
However, his completion percentages on the smash, bootleg, and clearout are somewhat concerning. The bootleg is a misdirection play with targets at multiple depths, and he's proven himself to be an adept thrower on the move. If he's hitting only 56.8 percent of the time, that indicates the defense often has his receivers covered, he's being pressured or is indecisive on where to throw.
His success, or lack thereof, on smash and clearout plays is harder to pin down, as those concepts are often mixed with other play designs. Most likely, a mix of execution, play-calling, and defensive coverage are to blame. But the specific breakdown of that mix is difficult to discern, as only a select few know everything that's said and done behind the scenes.
But one way to look at the situation is to compare the last few years.
How does 2018 compare to the past?
The Dallas Cowboys have changed little since 2016. The pass tendencies of this year's iteration were nearly identical to the team's tendencies in 2017 and 2016. The screen, bootleg, and clearout were called at almost the same frequency in 2018 as they were the last two seasons.
The most successful NFL franchises discover what plays in their arsenal work best and forge an identity from them. These teams consistently produce using those designs. They're able to score, keep drives alive, spark a sputtering offense, or dictate the flow of the game to their opponents.
If Dallas runs a lot of the same plays the same way yet continues to fail to match the yardage and point totals of 2016, then something needs to change. Whether it's the evolution of the quarterback to the next stage of his development, a change in perception or strategy by Scott Linehan, or a change in the staff itself, this offense doesn't need more of the same.
You can follow Allan on Twitter at @AllanUy22
*Play diagrams made with the Football Dood App (download for iTunes and Android).
*Animations derived from NFL Game Pass.
*Mandatory Credit: Matthew Emmons-USA TODAY Sports