The Associated Press released its preseason poll Monday morning. Whether it carries validity right now, it will be highly regarded throughout the season until the College Football Playoff Committee releases its rankings.
With the top schools being on display early, the big names will follow and those big names will be headlined with draft praise as the season concludes. Though Ohio State's Nick Bosa, Alabama's Raekwon Davis and Oklahoma's Rodney Anderson, among others, are names to keep track of throughout the season, it's great to keep tabs on the other players that are being overshadowed.
From each team ranked in the AP top 10, the draft-eligible players listed have fallen under the radar in light of the superstars that scream top draft choices.
1. Alabama: Deionte Thompson, Safety
Though the absence of Minkah Fitzpatrick and Ronnie Harrison, the safety positions for the Crimson Tide should be just fine starting with Deionte Thompson. Thompson only started two games a season ago but
played in every outing. The junior's game is predicated on range. Thompson has near elite acceleration and hits his target with plenty of pop. With loose ankles and fluid change of direction skills, Thompson has the click and close ability to fire out of his stance and finish the play.
Thompson tallied 25 tackles last year with a pass breakup and a near pick six. The redshirt junior proves his vision and intelligence when quickly reacting to the development of the play. His reaction quickness is that of a NFL safety. Thompson can be a reckless tackler at times, but a full season of starting reps will give him numerous opportunities to clean up his technique.
2. Clemson: Tre Lamar, Middle Linebacker
When talking about the Clemson defense, the first spoken words will be about some part of the defensive line. Though reputable and worth the praise, the defensive line has managed to overshadow many strong points of the Tiger defense.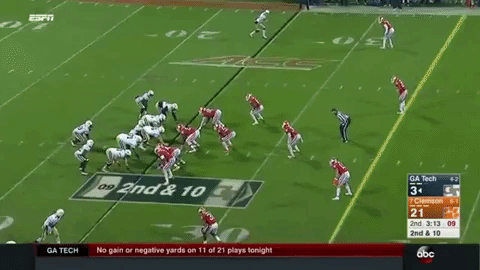 At 6-foot-4 and 255 pounds, Tre Lamar sports a massive frame, especially for that of a middle linebacker. The junior plays to his size by being physical at the point of attack and exploding into his target. He shows to have reliable pass coverage skills with adequate range and awareness to be a consistent player on all three downs. Lamar can be labeled as limited in the athletic department, as his hips need some oil, but his straight line speed checks the box.
Here, he shows a blend of his full package by shedding the block and keeping disciplined eyes to bring the ball carrier down behind the line of scrimmage.
3. Georgia: Tyler Clark, Defensive Tackle
Tyler Clark finished his sophomore season off in convincing fashion with 10 total tackles, 2.5 for loss, and a sack in Georgia's two playoff games. Clark flashed versus a strong Oklahoma offensive line showing an attractive skillset highlighted by strength and vision in the run game.
#Georgia DT Tyler Clark was dominant in the Rose Bowl. Not always the best technique in the run game but stays active and keeps motor running. Great vision. Easy mover. Sustains well at POA. #NFLDraft pic.twitter.com/Pb7A9IaEsU

— Christian Page (@_ChristianPage) August 22, 2018
Clark plays with a low center of gravity showing off his penetration skills with adequate flexibility and athleticism to squeeze through the interior and create pressure. He plays with tremendous power and his leg drive and hot motor create an intimidating power rush to overwhelm guards.
4. Wisconsin: Andrew Van Ginkel, Outside Linebacker
In 2017, Wisconsin produced its best defensive unit in the history of its program. The Badgers ranked second in the country in total defense (262.1) and third in scoring defense (13.9). The unit only returns four starters from last year's squad but one of the non returning starters highlights the defense: Andrew Van Ginkel.
The outside linebacker creates constant pressure in his stand up rush linebacker role. Van Ginkel plays with a hot motor at all times and that plays well to his pursuit speed and aggression at the point of attack. The senior doesn't boast top-notch athleticism but has enough lower body fluidity to provide range in run support and when rushing the passer.
Phil Steele ranks the Badgers as the second best linebacker unit in college football only behind Alabama. Don't think the reason the Badgers are ranked so high is only because of the return of TJ Edwards and Ryan Connelly.
5. Ohio State: Kendall Sheffield, Cornerback
If you want an early betting line on the 2019 NFL Draft, let's make an over/under of how many Ohio State cornerbacks go in the first round. Four Ohio State cornerbacks have been selected in the first round in the past five years with three in the last two drafts (2018: Denzel Ward; 2017: Gareon Conley and Marshon Lattimore; 2014: Bradley Roby).
Kendall Sheffield has the mold of the next top-notch Buckeye cornerback. In his first year on the field in Columbus, Sheffield played in all 14 games with three starts and ranked second on the team with nine pass breakups. Sheffield has world-class speed proving that when setting the Ohio State in house record posting a 6.663 60-yard dash time.
Sheffield plays more in a press scheme using his longer frame to stagnate receivers off the snap. He has a knack for turning his head to make a play on the ball, and if not, he quickly brings down the receiver. Sheffield has the physicality and overall speed to encourage first round praise, but he doesn't have the lower body fluidity many covet that high in the draft.
6. Washington: Jojo McIntosh, Strong Safety
Washington is currently en route of making a claim for DBU. The Huskies have had five defensive backs drafted in rounds one and two over the past six years and should have a few more this season. Taylor Rapp and Byron Murphy get the majority of the praise when evaluating the Huskies' secondary, but Jojo McIntosh consistently makes a case why he should be talked about more.
McIntosh sports a longer frame at 6-foot-1 and 200 pounds and looks to run through a wall on every play. The senior plays downhill and makes his mark in the run game showing enough range and speed to play sideline and behind the line of scrimmage. He is a heat-seeking missile, as he can power through blockers and will lay the wood at the tackle point. McIntosh displays noticeable recognition skills and reacts quickly to the flow of the play. He finished the 2017 season with 50 total tackles, a pass breakup and an interception.
7. Oklahoma: Ben Powers, Left Guard
Orlando Brown Jr. headlined one of the strongest offensive line units in college football last season as the Sooners allowed just under two sacks a game. It's odd to think a two-time all-conference performer is overshadowed, but from a national media perspective, Ben Powers is.
Ben Powers returns to Oklahoma with the highest pass-blocking efficiency among returning Big 12 guards pic.twitter.com/5qMSYETGf9

— PFF College (@PFF_College) May 24, 2018
Powers does his best work in pass protection by quickly shooting out his long arms gaining instant extension. He plays with sticky hands when engaged and produces efficient hand placement to sustain blockers throughout the play. Powers is a reliable pulling blocker being able to constantly hit his target being in the appropriate position to pave way for the back.
Powers will get reprimanded for high pad level in pass protection but he has enough strength in his lower body to stay on par with power rushers.
[visual-link-preview encoded="eyJ0eXBlIjoiaW50ZXJuYWwiLCJwb3N0IjoxMzA4OCwicG9zdF9sYWJlbCI6IlBhZ2UgMTMwODggLSBQcmVtaXVtIENvbnRlbnQgUGxhbnMiLCJ1cmwiOiIiLCJpbWFnZV9pZCI6MCwiaW1hZ2VfdXJsIjoiIiwidGl0bGUiOiJQcmVtaXVtIENvbnRlbnQgUGxhbnMiLCJzdW1tYXJ5IjoiT3VyICQxMCBkZWFsIGVuZHMgc29vbiEhIiwidGVtcGxhdGUiOiJkZWZhdWx0In0="]
8. Miami: Lawrence Cager, Wide Receiver
The 2017 Miami offense managed to produce a potent passing attack without heavily taking advantage of the 6-foot-5 Lawrence Cager. Cager finished the season with only 16 receptions with four of those coming in the final game of the season versus Wisconsin. The 220-pound junior is not the greatest route runner but doesn't have to gain separation to be considered open. Cager displays consistency in winning contested battles at the catch point showing a pair of strong mitts.
Lawrence Cager (#18) has a knack for winning contested catches. Here a few from last season. #TheU #Miami #NFLDraft pic.twitter.com/sQdShWNu7D

— Christian Page (@_ChristianPage) August 23, 2018
Though Cager is not a textbook route runner, some of his subtleties create a breach in coverage though quarterback Malik Rosier will frequently fail to look his way. His large catch radius and technique as a pass catcher provides for an expected catch every time he is targeted. Junior Ahmmon Richards has more of the total package in the Miami offense, but don't sleep on Cager this season, especially when facing LSU in the opener.
9. Auburn: Javaris Davis, Cornerback
Known as the third guy in line in last year's stacked Auburn cornerback depth chart, Javaris Davis still proved to be one of the most consistent players for the Tigers. Davis is a fluid athlete with click and close ability in the open field.
Diving into more #Auburn film and wanted to highlight Javaris Davis (#13-CB). Closes quickly on the ball with the vision to jump routes. Consistent open-field tackler and doesn't shy away from any contact. pic.twitter.com/3kssOoIseM

— Christian Page (@_ChristianPage) August 22, 2018
He sports a lean frame but doesn't shy away from contact and still holds his own in press coverage and when attacking the line of scrimmage. Davis has played a diverse role for t
he Tigers lining up as a nickelback and an outside corner in certain situations. He looks to hold down the field cornerback spot for Auburn this fall, but his versatility and reliability could be used as a chess piece in the Tiger secondary.
10. Penn State: Ryan Bates, Offensive Tackle
Ryan Bates may be a better fit at guard but has starting left tackle qualities. Bates delivers a heavy punch on initial contact with strong hands and adequate placement. He keeps extension during his pass protection reps and can easily redistribute his hands throughout the process. Bates has a controlled kick slide with a consistent punch to constantly counter his defender.
The 6-foot-4 lineman doesn't have an overwhelmingly strong base and occasionally will get pushed off his mark because of it. Bates mirrors well with light feet, but he still has yet to show enough lower body flexibility to feel completely comfortable. Bates anchors a strong offensive line unit in State College, and next-level talk needs to start about this junior.